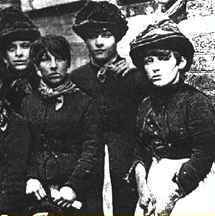 Textile workers outside their factory, c. ~1890
– In the early 1890's, one in every five females over the age of ten were employed. Over a million of these women worked in factories.
– By 1920, this number will increase to one in every four.
– Most of these women are young and single, or widows and divorcees.
– Seventy-five percent of working women in 1920 will be foreign-born or the daughter of foreign parents.
– In New York City, most garment and textile workers were women of Russian-Jewish or Italian descent.
– In 1905, the average factory salary was just $400 per year ($8 per week).
– Women consistently earn 25-67% less than their male counterparts.
– Over 40% of female industrial workers worked in the garment/textile industry.
– The national life expectancy is 50 years; more than a third of textile mill workers die before the age of 26.
– Dampness, fatigue, accidents, and the constant strain of production decrease the life expectancy of women in mills; tuberculosis, pneumonia, and what will become known as "brown lung" are common.
– Black women consistently earn 60% of that which white women earn.
– Women, both white and black, are often systematically excluded from unions; the Industrial Workers of the World (IWW or Wobblies), founded in 1905, was one of the first large unions to include women.

Protest that followed the Triangle Shirtwaist Factory Fire, in which 146 women were killed